When looking at the reasons why owning a pet is good for your health, we found that children tend to benefit particularly well when there's a dog in the home. So who's in line to be your family's newest four-legged member? Take a look at some of our favourite kiddy-friendly pooches…
Labrador Retriever


Lifespan: 12 years or older
Size: 55-57 cm
We'll start off with one of the world's most popular dogs - and it's not hard to see why Labs continue to make themselves right at home in so many families.
For a start, they love to make new friends. So matter how big or small your family and even if it includes other dogs and cats, the chances are that your Labrador will find their place with ease.
As pups and young adults, these characters are playful bordering on boisterous. As such they're always up for a game - and they're also incredibly good natured in their play. Just be careful with tiny children as they can so easily be bowled over by an over-enthusiastic Lab!

On the care front, Labs need lots of exercise - and they shed a lot throughout the year. But if you're looking for a trustworthy and fun family companion, they're hard to beat.

Check out our Labrador Retriever breed guide for a more detailed look.
Airedale Terrier


Lifespan 11-12 years

Size: Males 56-61cm, Females 56-58 cm

One of the largest terrier breeds, these guys have earned the title "King of Terriers" - and they can certainly settle in wonderfully well in a family environment.

A well-socialised Airedale will thrive when there are lots of people around, especially if those people are up for some fun and games. As they get older, a typical Airedale also has an incredible appetite for exercise. If your family relishes the idea of two-hour long country walks, this is exactly the type of dog for you!
Cocker Spaniel

Lifespan 11-12 years

Size: Males 39-41cm, Females 36-38 cm

They're energetic, always happy to see you - and their relatively compact size means that these guys can also adapt easily to life in a smaller family home.

The Cocker was bred originally as a gundog, but has long-since earned a reputation as one of the UK's best loved family pets. Cockers are generally easily trained (you have to be smart to be a gundog). And in fact, the more time you and your family are able to devote to teaching your dog new tricks, the happier your Cocker will be.

They need a couple of brisk walks each day and plenty of time in the garden. Eager to please, the Cocker is more than willing to play games with the kids and although not aggressive, extra care needs to be taken when a Cocker and toddler are together, just to make sure they don't try to torment each other!

Check out our Cocker Spaniel breed guide for a more detailed look.
Whippet


Lifespan 12-14 years

Size: Males 47-52 cm, Females 44-47 cm

Looking for something not too big - but not too "yappy"? Take a good look at the Whippet. These guys were bred to be silent hunters and are only generally known to make a fuss if they are left alone for too long or are severely stressed. Gentle and devoted, the Whippet is a generally healthy and loving dog who makes a great family pet.

They love to be in a home environment where there are people around to play games and go out for walks, but this isn't exactly a boisterous dog. As such, Whippets can get a little nervous and withdrawn if there's always a toddler chasing them. So Whippets can make a better match for families with older, active children as opposed to really tiny ones.

Most adult Whippets will thrive on a short walk in the morning and a longer one later in the day. One thing to watch out for is their strong prey drive: if they spot a squirrel, they'll make a run for it - so youngsters need to be taught to keep tight hold of the lead!
German Shepherd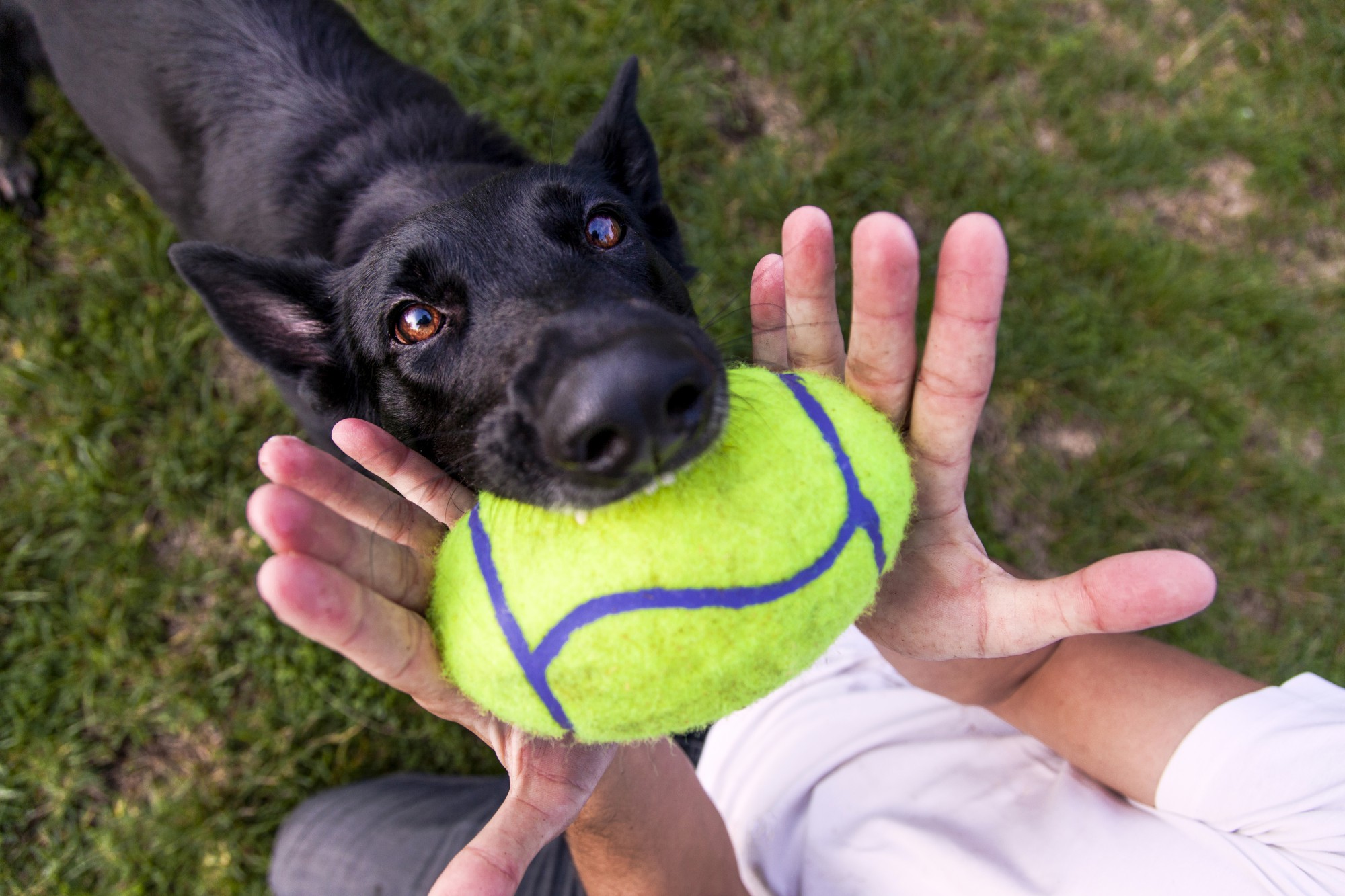 Lifespan 9-13 years

Size: Males 60-65 cm, Females 55-60 cm

A big dog with an even bigger heart, a correctly-bred GSD soon becomes devoted to its new family - and that devotion works both ways!

These are big, active dogs and aren't the best option for flats or houses where space is restricted. An adult GSD needs up to two hours or more of exercise each day, so it definitely helps if more than one member of the family is able to share the walking load!
As pups, they need to be handled firmly and gently to show them who's boss. But providing you choose your puppy well from a reputable breeder and you get to grips with socialisation, the end result should be an incredibly loyal and trustworthy companion - and one who's great with children of all ages. Likewise, if formal training sessions, agility and canine sports are your thing - and you'd love to get the kids involved - the GSD is ideal!

Check out our German Shepherd breed guide for a more detailed look.

Ready to find your ideal dog?
Already chosen your breed but want to pick the right pup? Take a look at our guide to choosing a puppy.