A TV Ad? Yes, a TV ad. With the launch of the new Everypaw site, we wanted to go with a bit of a bang. Something to celebrate, and give everyone a little chuckle on the way. So after a bit of a brainstorming session, we hit upon the idea of creating a TV ad.
The idea
Now we like to think we have a bit of a sense of humour here at Everypaw Pet Insurance. We didn't want to go down the route of a run of the mill insurance ad. Oh, yes. We wanted something a little adventurous that would hit your funny bone.
We've all seen the fail videos and pics on social media of owners coming home to find their precocious pets have made a mess or raided the food cupboard. They are hilarious, unless perhaps it happens to you, of course. But it struck us, when us 'hoomans' venture out and about and leave our fluffy furballs home alone, what could they get up to? With the idea nailed down, we needed a hero, a hero that the pet insurance world could get behind, our Daredevil Doggy.
Casting
It is one thing to come up with a great idea, but a great idea, in this case, is only as good as the cast. And after some extensive casting sessions – OK, we looked at pictures of cute cats and dogs, we found our cast… Introducing, Paddy AKA Eddie the Daredevil Doggy – isn't he cute!
But hang on, doesn't he look familiar. That's because Paddy isn't just cute, he's a fully-fledged doggy actor, and he's got the credits to prove it. Not only has he been the face of a well-known Dogs Trust campaign, but he has some film and TV credits to his name too. Paddy was in the big-screen live-action remake of Disney's Beauty and the Beast, and he was Michael Sheen's dog in Slaughterhouse Rulez. He's also a pretty big deal on Midsomer Murders where he plays DCI Barnaby's dog.
Paddy really is one of the top canine actors working in the UK now, and as you'll see in the finished ad, this cheeky chappie has some serious skills. But it was also important to us that Paddy was a happy doggo. His owners told us that first and foremost, he is a much-loved family pet – just one that enjoys his film star status and just being a dog. Now, every great star needs a buddy, their own partner in crime, and there have been some pretty famous double-acts over the years. So it made sense for us to try and create a new dynamic duo, and we cast Smirnoff the Cat to co-star. Smirnoff doesn't quite have the credits of Paddy, but with his cute face and gorgeous coat, we took a chance on the kit.
Lights, camera, action
On a sunny day in July, the cast, crew and Everypaw headed on down to a leafy part of South London for a responsible socially distanced shoot.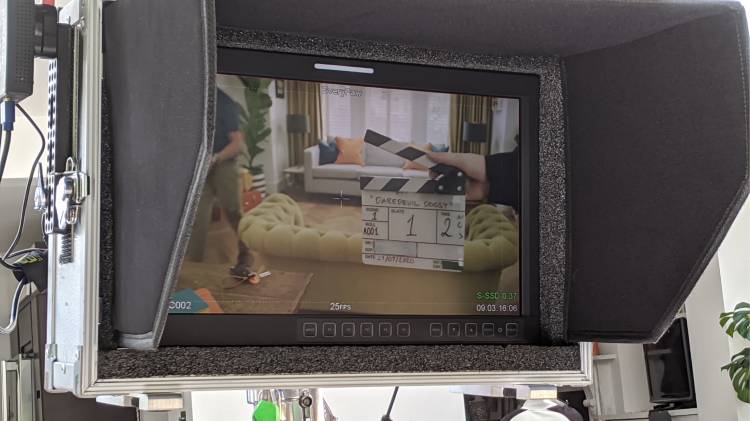 When it came to show time, Paddy did not disappoint. Like a true pro, he came from his trailer and commanded the set instantly. You could tell he knew his way around a film set, and when it came to his costume fitting – he transformed from a mild-mannered Jack Russell Terrier into our Doggy Daredevil. And when we said he had some skills, we weren't kidding. He took to DIY like a pro and as soon as he saw the motorbike, he was in his element. Stunt riders of the past have nothing compared to this four-legged daredevil.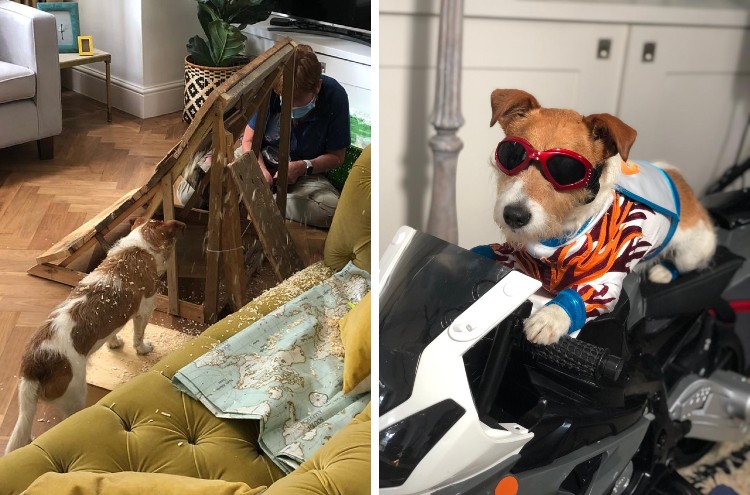 But when it came to Smirnoff, it was a slightly different story. He was originally supposed to have a bigger part to play. Unfortunately, on the day, stage fright got the better of him, so he spent his time lounging on the couch instead.
Introducing Daredevil Doggy
So without any further ado, get the popcorn ready – here's the Everypaw TV ad in all its glory. Ladies and Gentlemen, Dogs and Cats, we proudly present to you, Daredevil Doggy.
We hope you enjoyed Daredevil Doggy... and you never know, he may soon return for some more action-packed adventures.
Don't go thinking 'for pet's sake' anymore, for pet insurance for your cats and dogs with unlimited 24/7 access to vet nurses and vets, there's Everypaw.
Click here to start your quote.